Join Selphenia at one of The Winner's Workshops Business Empowerment Series monthly trainings. Get game changing strategies designed to help you use what's in your hands,  in your house and in your head to make more money in the marketplace. 
These 2 hour workshops will help you refine your focus to make simple adjustments that will uplevel your success in life and business.
Click workshop link to register and get more details.
All workshops are free but require an investment of your time to invest in empowering, educating and elevating your business for success.
April 15 

Discover Your Buried Treasure To Profit From Your Passion
May 20 Fortune Of A Vitalizing Vision 
June 17 

A Bigger Slice: How to Win With A Niche Market
July 15 

Financial Independence: Getting Financially Fit
Aug 19 

Serving Up Success: How to Serve Your Way to Business Success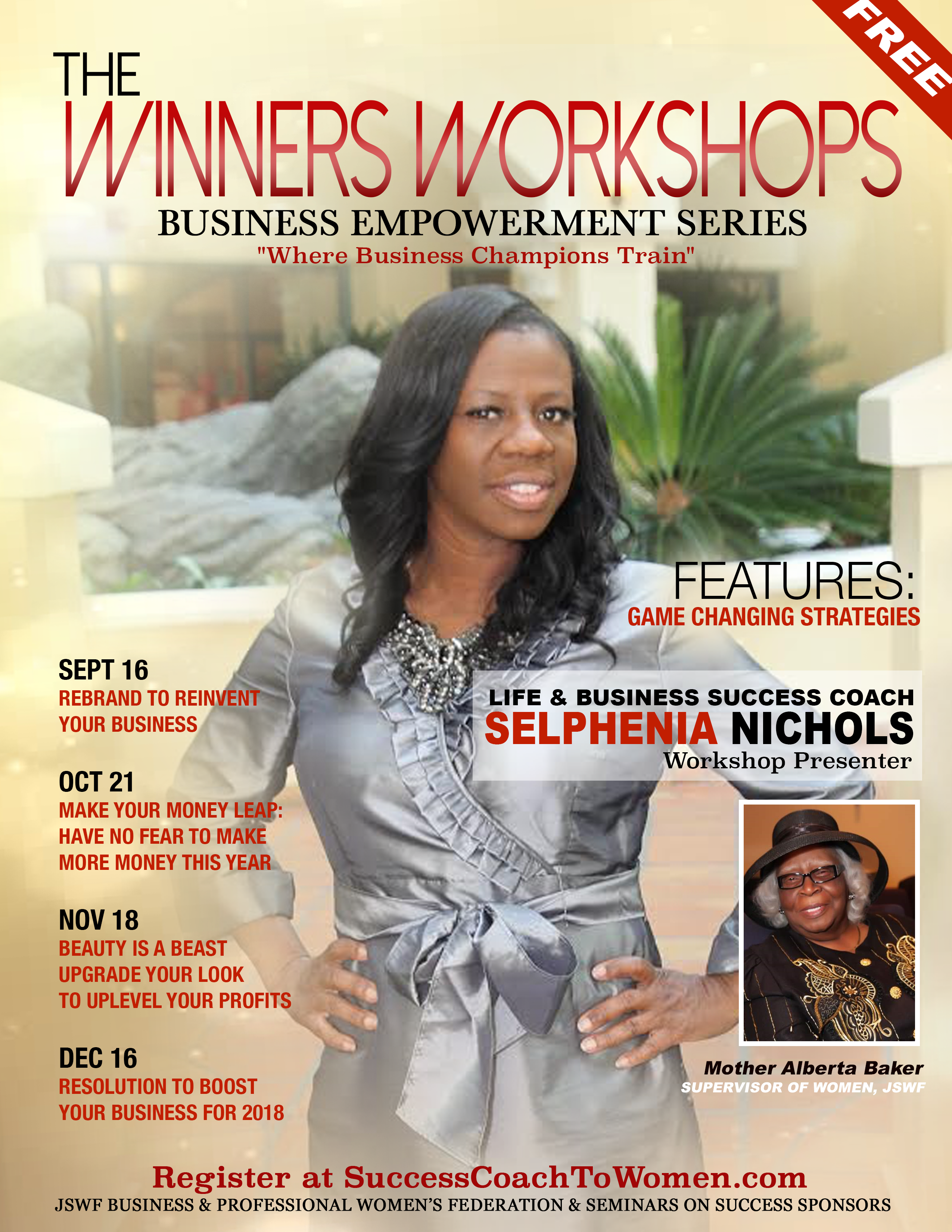 Sept 16 

Rebrand To Reinvent Your Business
 Oct 21 

Make Your Money Leap: Have No Fear To Make More This Year
Nov 18 

Beauty Is A Beast: Upgrade Your Look To Upgrade Your Profits
Dec 16 

Resolution To Boost Your Business For 2018
Workshops Agenda
5:00pm  Check In/Pre-event Activity
5:30pm  Opening Introduction
6:00pm  Workshop Presentation
7:00pm  Questions & Answers
7:15pm  Success Remarks
7:30pm  Meet & Greet Selphenia   and Success Shopping
The Winners Workshop Business Empowerment Series is a collaborative effort between Seminars On Success, JSWF Business and Professional Women's Federation, along with local churches throughout the Tampa Bay Community and surrounding areas to support Economic Development and Education. If your church or organization would like to serve as a host-site sponsor or join the economic empowerment movement contact us at selphenia@successcoachtowomen.com or (813)603-0088